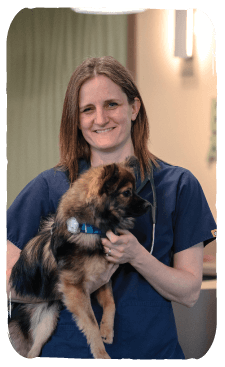 Born in Manhattan, Dr. Hawkins was raised in Sea Cliff, New York on the north shore of Long Island with an incredible amount of animals: a ferret, a tortoise, a box turtle, a chinchilla, a rabbit, a boa constrictor, a hedgehog, a Cairn Terrier, ducks, two guinea pigs, mice, lizards, and parakeets. She also had two cats, Katie and Tabitha, who lived with her for 18 and 18.5 years through undergrad at Cornell, veterinary school at Ross University School of Veterinary Medicine, and her move out to Oregon after graduating in 2008. While her conventional schooling finished then, Dr. Hawkins has attended some sort of continuing education every year since, including the International Veterinary Acupuncture Society training in Portland, Oregon in 2012.
Dr. Hawkins' favorite part about veterinary medicine is that every day is different and meaningful, because she gets to connect with people and their pets. She enjoys offering a down-to-earth approach to veterinary care. Her special interests include behavior, acupuncture, medicine, and surgery.
Both a dog and a cat person, Dr. Hawkins enjoys training and doing activities with her three dogs. She also enjoys being at home with her multiple rescue cats and working on "catification" projects for them. A few of Dr. Hawkins' other hobbies include hiking, reading, going to concerts, traveling, and gardening, and she has a certain soft spot for chocolate and pizza.