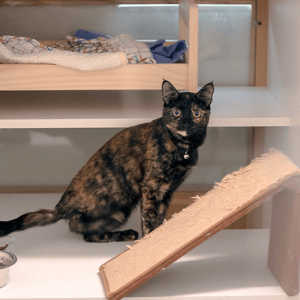 We are committed to treating your pets as though they were our own. When you leave town you can be confident that your pet will be well-loved and cared for at East Padden Animal Hospital. We absolutely encourage you to call and check in on your pet while you are away. Of course, you can always bring your pet's favorite toys or beds to make your little (or big) ones comfortable.
Facilities are limited, so plan ahead and call as early as possible when booking during the holiday seasons.
Our feline guests have their own suite to enjoy away from the dogs. They each have their own cat condo, as well as the ability to take turns enjoying free-time out in the room to test a number of comfy beds and fun toys. Our canine guests each have their own large run and are walked and played with a minimum of 3 times daily.
Boarding Policies:
For protection of all pets, we require that all of our guests be current on vaccinations. We are advocates of 3 year vaccine protocols; however the Bordetella vaccine for dogs must be given yearly. We do accept current vaccine titers and medical waivers.
In order to maintain a flea-free environment, we inspect all pets for fleas and, if present, administer a pesticide-free pill called Capstar, to kill all adult fleas at a nominal charge.
Please call East Padden Animal Hospital ahead of boarding to discuss pricing and the status of your pet's vaccinations.