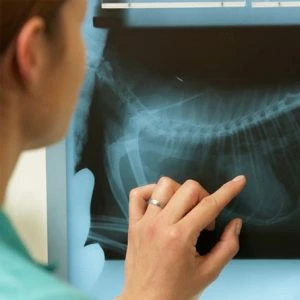 At East Padden Animal Hospital, we always strive to provide the best possible medical care for your pet. That's we offer state-of-the-art veterinary laboratory and diagnostic services.
Digital Radiographs (X-rays)
An updated iteration of outdated x-ray imaging, digital radiography uses digital sensors rather than traditional photographic film to examine the internal body. Images can then be viewed on our computer monitors, are always emailed directly to you, and are reviewed by a board-certified radiologist or surgeon. This technology has a number of advantages including using less radiation, improved time efficiency, and enhanced image quality. East Padden Animal Hospital offers both digital X-rays and digital dental X-rays for all of our patients.
Laboratory Services
Did you know that over 10 percent of animals that appear normal have significant problems in their lab work? In addition to evaluating sick patients, lab work is essential to keeping all pets healthy for as long as possible. East Padden Animal Hospital is proud to partner with IDEXX, the industry-leading veterinary testing organization. They offer an extensive range of analytical services from blood testing, urinalysis, fecal testing, cultures, and more! We also perform many in-house tests when immediate results are needed.
Ultrasounds
We are able to offer, in certain cases, basic veterinary ultrasounds in-house. In general, we have used our ultrasound capability to detect pregnancy, as well as the presence of urinary tract, bladder, and free fluid issues, among others. A non-invasive diagnostic tool, ultrasound is a reliable way to detect illness and measure function of the internal organs.
In the event your pet is suffering from a more complex ailment, we are happy to request the help of a board-certified ultrasonographer, who can come to our clinic and perform a full diagnostic ultrasound. This service is obviously dependent on the coordination of schedules. Or, if time is of the essence, we can refer you to an outside specialist.
Blood Pressure Monitors and Electrocardiogram (EKG)
East Padden Animal Hospital uses Doppler monitors to measure your pet's blood pressure and digital monitors to evaluate your pet's heart rhythm. Blood pressure measurement is essential in detecting hypertension (high blood pressure). EKG is used to diagnose the underlying cause of an abnormal heart rate or rhythm. Both blood pressure measurement and EKGs are also used in anesthetic and critical case monitoring.