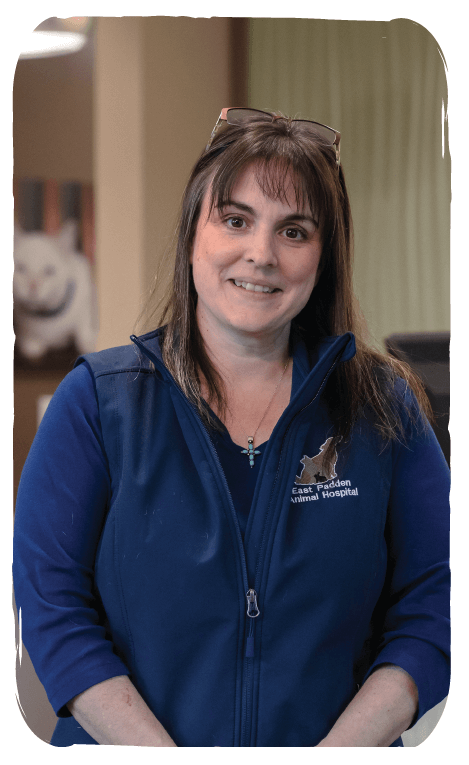 Amy
Amy is our Hospital Manager and has worked in the veterinary field since 1994 as both a Lead Technician and Manager. She has a B.S. in Zoology specializing in Animal Care and an Ecology Minor. Previously she was a triple language major, but changed course knowing that animals were her true passion. She lives in the Columbia River Gorge with a multitude of critters. In her time off Amy is an avid year round hiker and backpacker. She is the author and photographer behind an online website all about her hiking when she is not working to help all the furry family members in our community! Her and her husband of 27 years were blessed to also raise 23 foster children as part of their family and enjoy being active in their local Church.
Ashley
Ashley has been in the veterinary field since 2012. She studied at Carrington/Apollo college and has been with East Padden ever since. In her spare time, she enjoys spending lots of time with her family and close friends. Camping at the sand dunes is their number one hobby. If not at the dunes or working, her son, two cats, and two dogs keep her well occupied. Ashley's passion for animals has been since the beginning and she can't wait to meet you and your furry friends!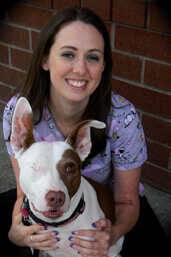 Cathy
Cathy is our lead receptionist and in charge of everything reception. She started working in veterinary medicine in 2008, and has been a part of the EPAH team since August of 2013. Even from a young age Cathy was interested in animals and would bring home every stray in the neighborhood. When she is not at work she is at home with her two little dogs Pablo and Bennie.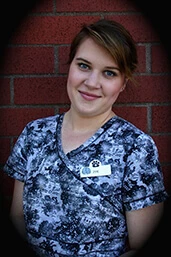 Zoe
Zoe joined the East Padden Animal Hospital team in February 2014. We are her very first working experience in an animal hospital. She graduated from Apollo/Carrington College in 2014. Zoe has always loved all kinds of animals; from helping her neighbors by pet sitting their dogs, to feeding their horses, and taking care of their chickens. She also has two pets of her own, Cody her Beagle and Duke her Pitbull mix. Zoe's other hobbies include spending time watching her son Kayden grow.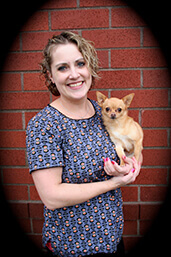 Charity
Charity is a Native Oregonian and says she will never leave; Oregon is her home. Charity has two adult sons; Josh is a Marine and lives in South Carolina, with his daughter (Charity's FIRST grandchild) and Matt lives at home with her which Charity loves. Charity has many fur babies, three dogs and a new kitten, Jada, Martin, Tim, and TBD. In her spare time Charity loves to find things to do outside with her dogs, like hiking, dog parks, car rides, and going to the beach. Charity is part of our management team she has been with East Padden for the last 9 years.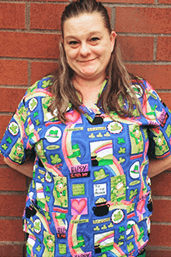 Traci
Traci's career as a veterinary technician started in 2008 when she graduated from Apollo College. While in school she landed a job at Orchard Hills Animal Hospital—this is when she met Dr. Thompson and Amy. She did some part time and fill-in work here at East Padden Animal Hospital from fall 2008 to spring 2010. Traci and her family were called away to Colorado to be with the children's' grandma; sadly she passed away in 2012. They had a couple of great adventures and learned a lot about Midwest weather during their stay. After meeting their newest family addition, Shaymus, along with some talking and planning, they decided to return home to the Great Northwest. One of Traci's most cherished loves, besides her family, of course, is her love for the Seahawks. Her love doesn't stop there—football, in general, is something she truly enjoys. She is a wife and mother of three (four if you count her pup, Shaymus). She is happy to be back at East Padden Animal Hospital and looks forward to working with all of you.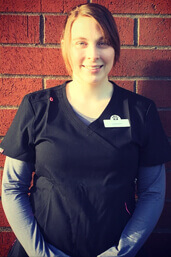 Leanna
Leanna started in the veterinary field in 2010, ranging from being a kennel hand to a vet assistant, and a receptionist. Leanna enjoys meeting the pets and their owners and helping them during their visits to East Padden. Leanna has two Tonkinese kitties that she enjoys cuddling with every chance she gets. Leanna plans to continue her career in the veterinary field and hopes to pursue her certification in the near future. Leanna also enjoys the outdoors, kayaking, camping and hiking.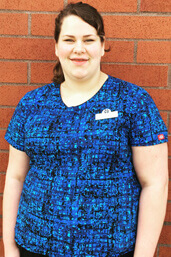 Morgan
I have lived in the Vancouver area my whole life. I live on a retired dairy farm where my family and extended family have lived for three generations. I love to be around our two horses, six cows, two ducks, many many chickens, three peacocks, three cats, and my new dog Rex. I enjoy spending time with my family and friends. When I am not around my animals (or yours!), I am either reading, crafting, camping, or just taking a good nap.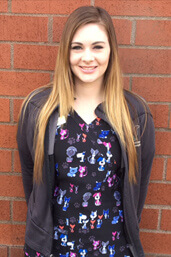 Kassie
Kassie has loved animals her entire life and knew she wanted a career working with them from a young age. She has been working in veterinary medicine since 2009. She enjoys building relationships with patients and clients at East Padden Animal Hospital. Outside of work, Kassie enjoys spending time with her husband Tyler, her daughters, Kinsley and Taylin, and their many pets (including dogs, cats, and rabbits).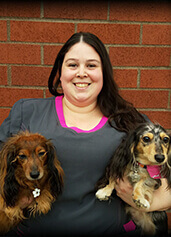 Lynette
Lynette has been in the veterinary field since 2012, after graduating from WSUV with her BS in Biology and a Zoology Minor that year. She is an avid animal lover and is usually spending time with her two dachshunds Willow and Cordelia, her formally feral feline KitKat, and her rabbit Peter. Less common pets she had growing up include chickens, goats, and even a hedgehog. Lynette is the owner of Willow Bee Photography, and took all of the pet portraits featured in the hospital! When not working, she enjoys activities where she can include her dogs, such as camping, going to the beach, or watching a good movie.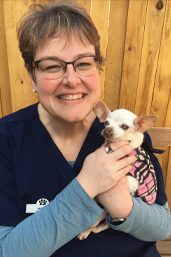 Mindy
New to the vet field is our Lobby Coordinator Mindy, a mother of five children, one husband, two dogs, three cats, one bunny rabbit, and a coop of chickens. Mindy loves to visit with fur babies and their people. She's all about yummy treats and prizes for your children. When at home she enjoys wood crafts, paper crafts, vinyl, quilting, and embroidery.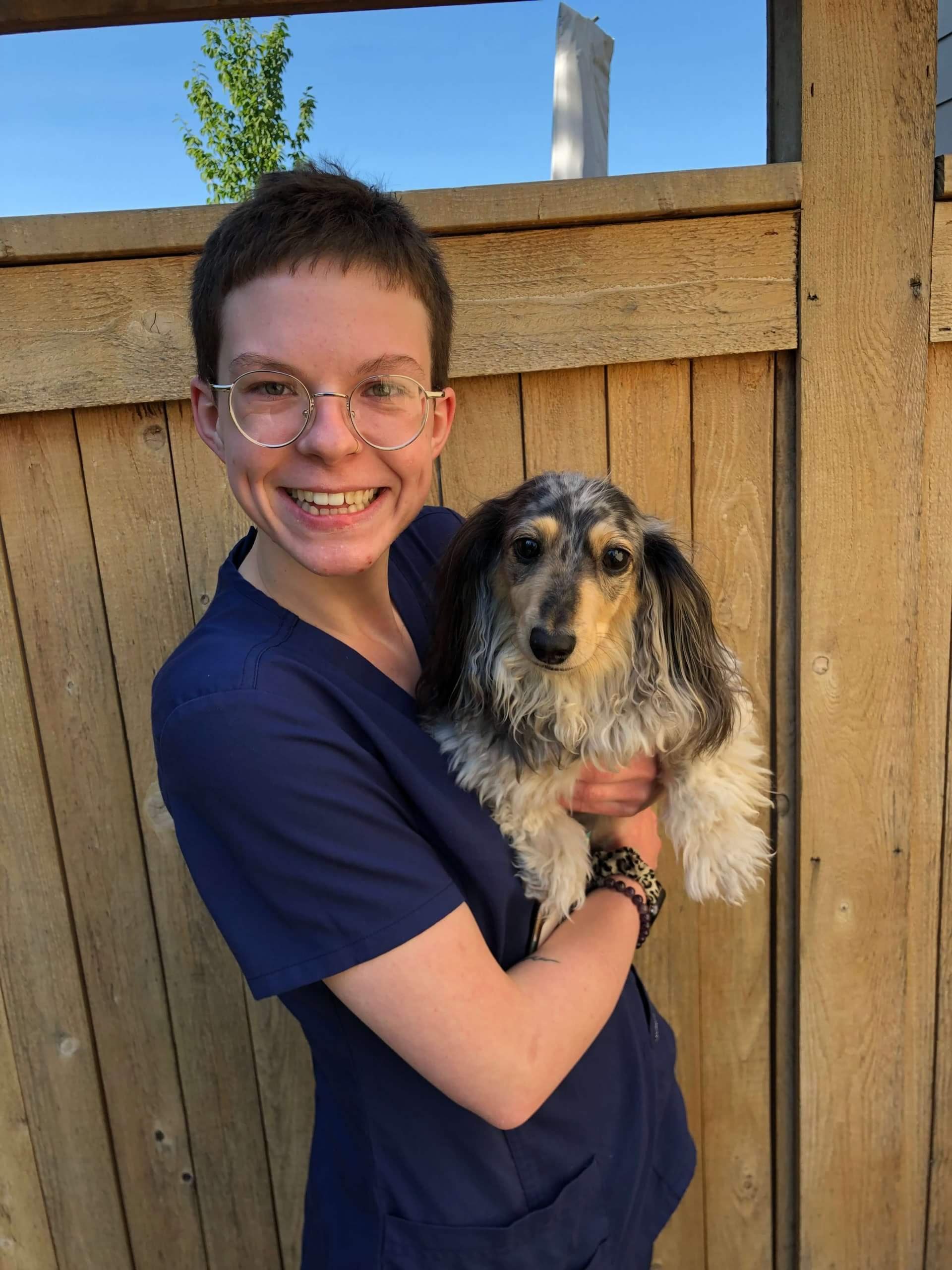 Ellie
New the the Vet field, Ellie is one of our new receptionists. Ellie has tried several different career paths – from student teaching, Pre K teacher, managing an apartment complex and she has found that her passion is advocating for our clients and patients here at EPAH. Her soft spot is cats and she has two of her own, Gizmo and Indi.
Mr. Elijah is often found on Ellie's lap assisting her answering phones in the call center. In her spare time, Ellie loves to be with her family, thrift shopping, and trying new foods!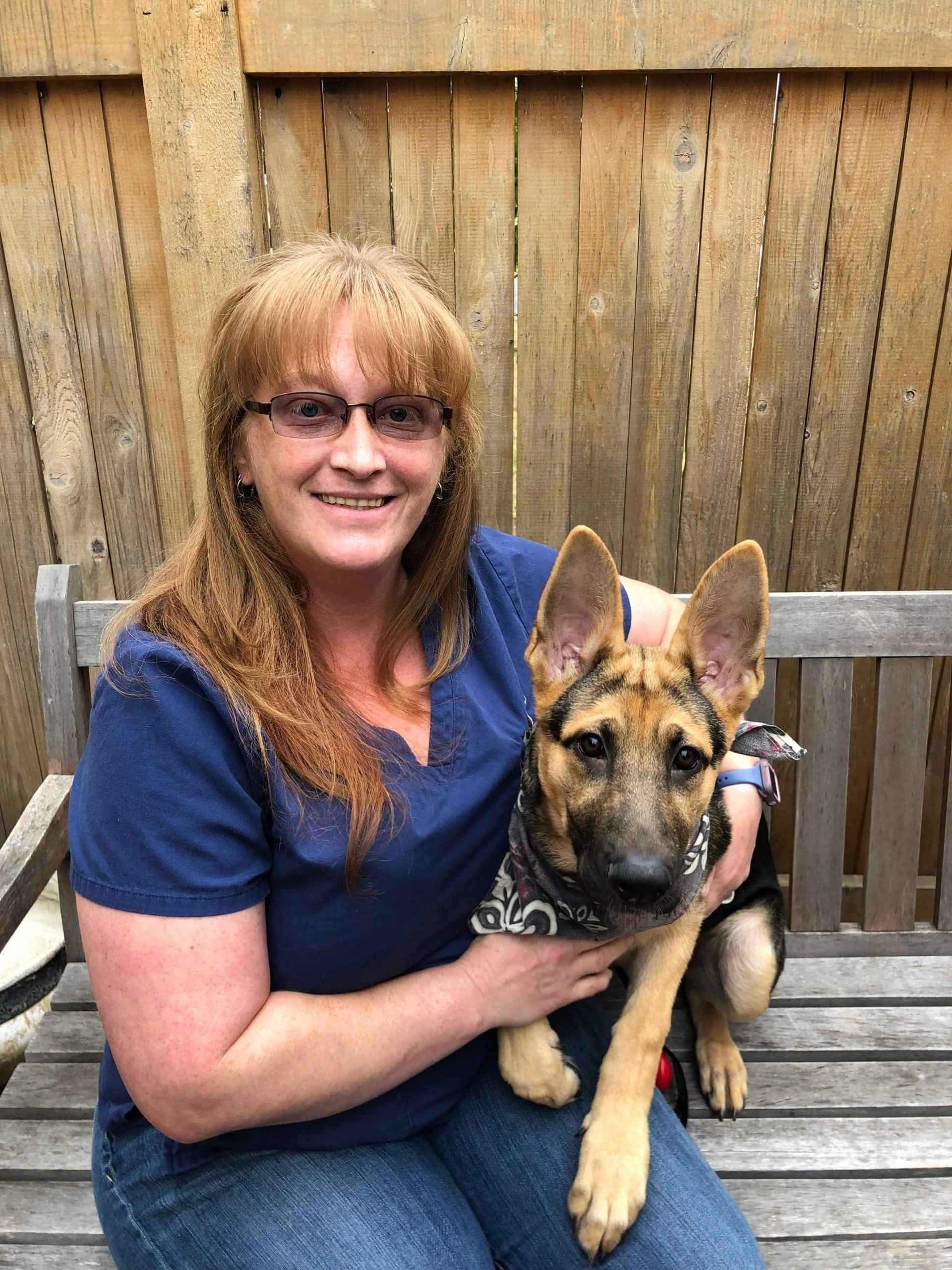 Jammie
Jammie Was born and raised in Alaska, moved to Portland, Oregon in 2015, and recently graduated from charter College Veterinarian Assisting Program. East Padden Animal Hospital is her first professional job in the field, but she has been the trusted family pet go to for years. Jammie is the momma to two fur babies, 7-year-old kitty Ratchet and 18-week-old pup Juneau Marie. 14-year-old Tank would have been here too but he crossed he rainbow bridge in February 2021. Jammie can't wait to cuddle and give you fur baby the best care.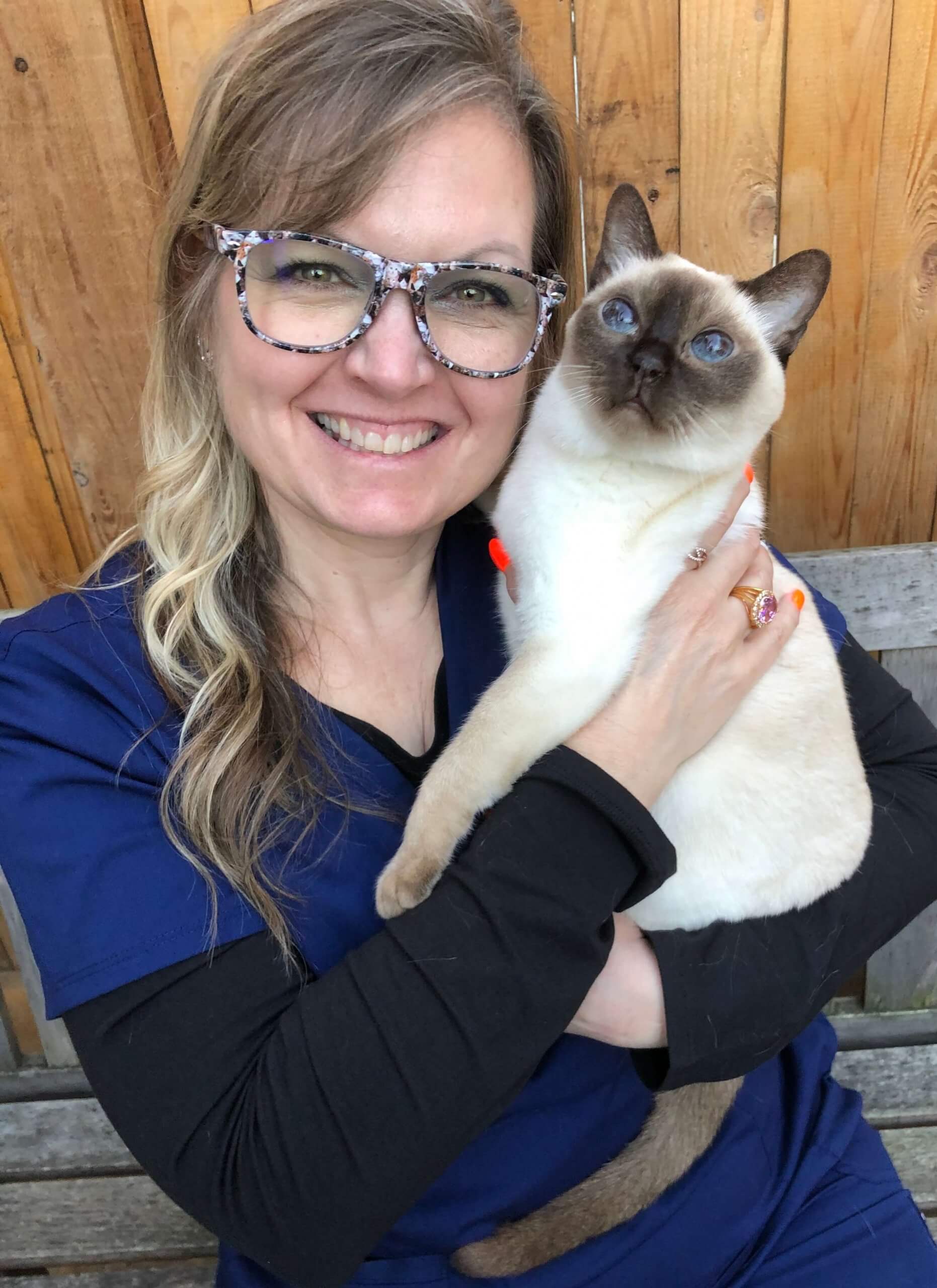 Debi
This is Debi. She grew up in Vancouver and loves the Northwest, even the liquid sunshine. She grew up in a family that always had a dog around and other animals that included: horses, goats, cats, guinea pigs, rabbits, birds and too many others to list. Because of this Debi has always loved animals. She currently has 2 wonderful kitties in her home, Sonatina "Tina" and Whitie. She was a 4-H leader and super-intendant for cat 4-H for 7 years and also traveled all over with her daughters showing cats in CFA. Debi has been married for over 30 years and has 2 grown married daughters and is expecting her first grand child. She has had numerous jobs over the years and with her passion for animals she has found the perfect place here at East Padden! Every day Debi wakes up looking forward to caring for you and your animal.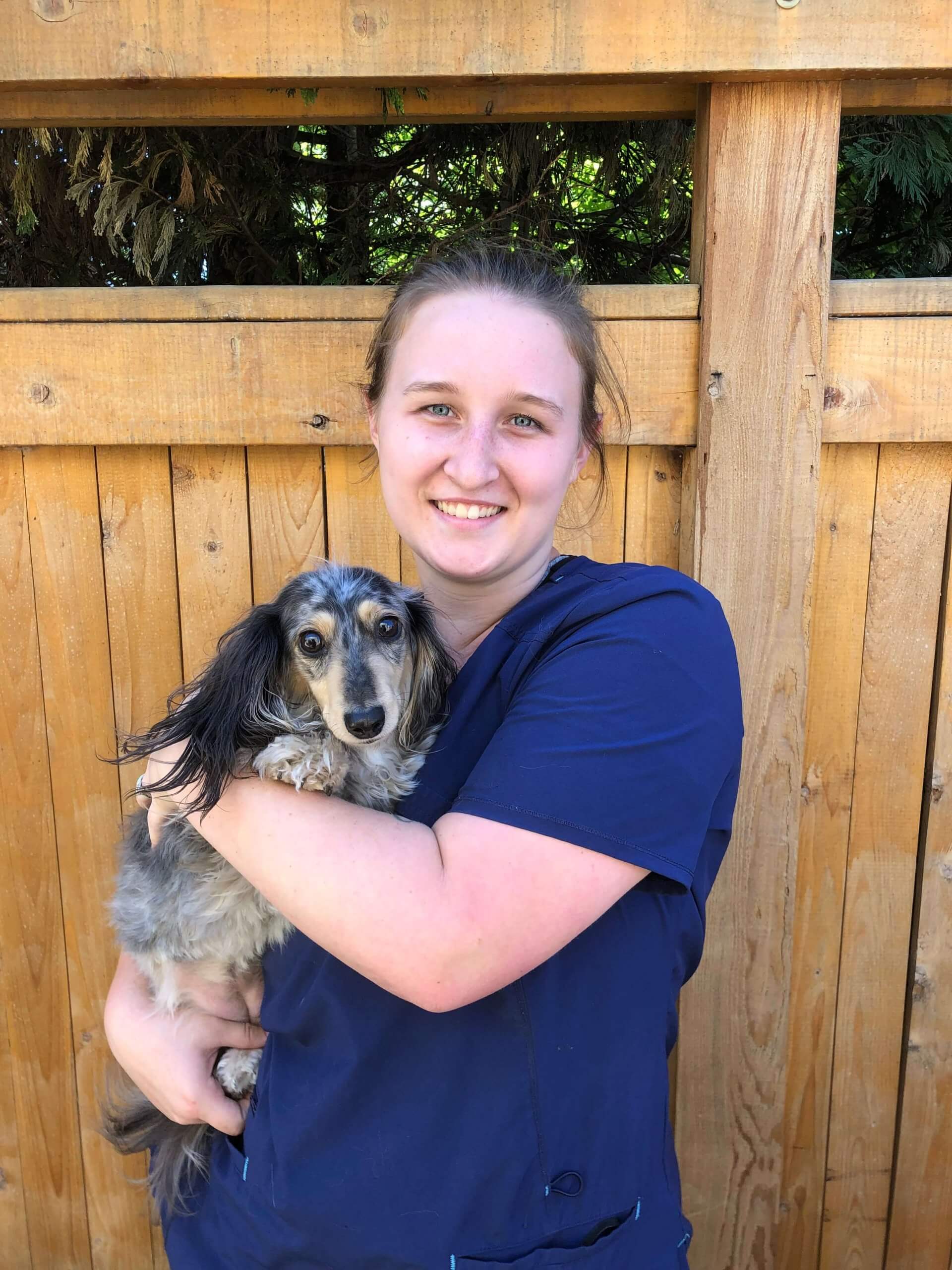 Kristina
This is Kristina and she is from here in Vancouver Washington. She has always wanted to work in the veterinary field and has been enjoying her few years in this field helping the animals live healthy lives.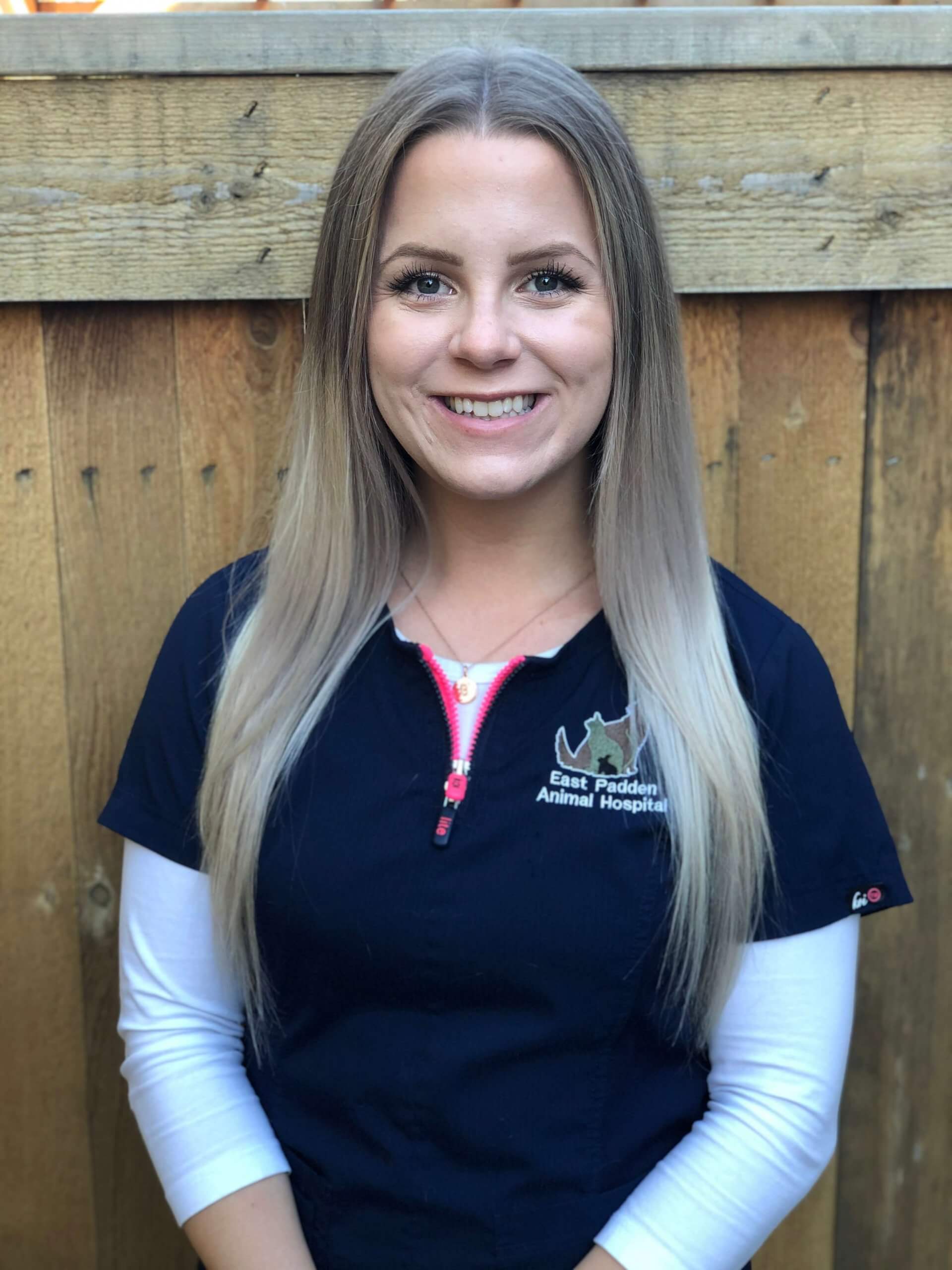 Bridget
Bridget was born and raised here in the PNW. She graduated from Washington State University Vancouver in 2017 with her Bachelors Degree is Business Administration. While in school, Bridget spent her free time volunteering at the Humane Society for Southwest Washington. Bridget has always had a passion and love for animals. Growing up, she always had a family dog. Currently, Bridget has a Black English Labrador named Bella. Bella loves playing with her English Labrador brother Kona and labradoodle cousin named Paul. Bridget is excited to meet all the wonderful EPAH clients!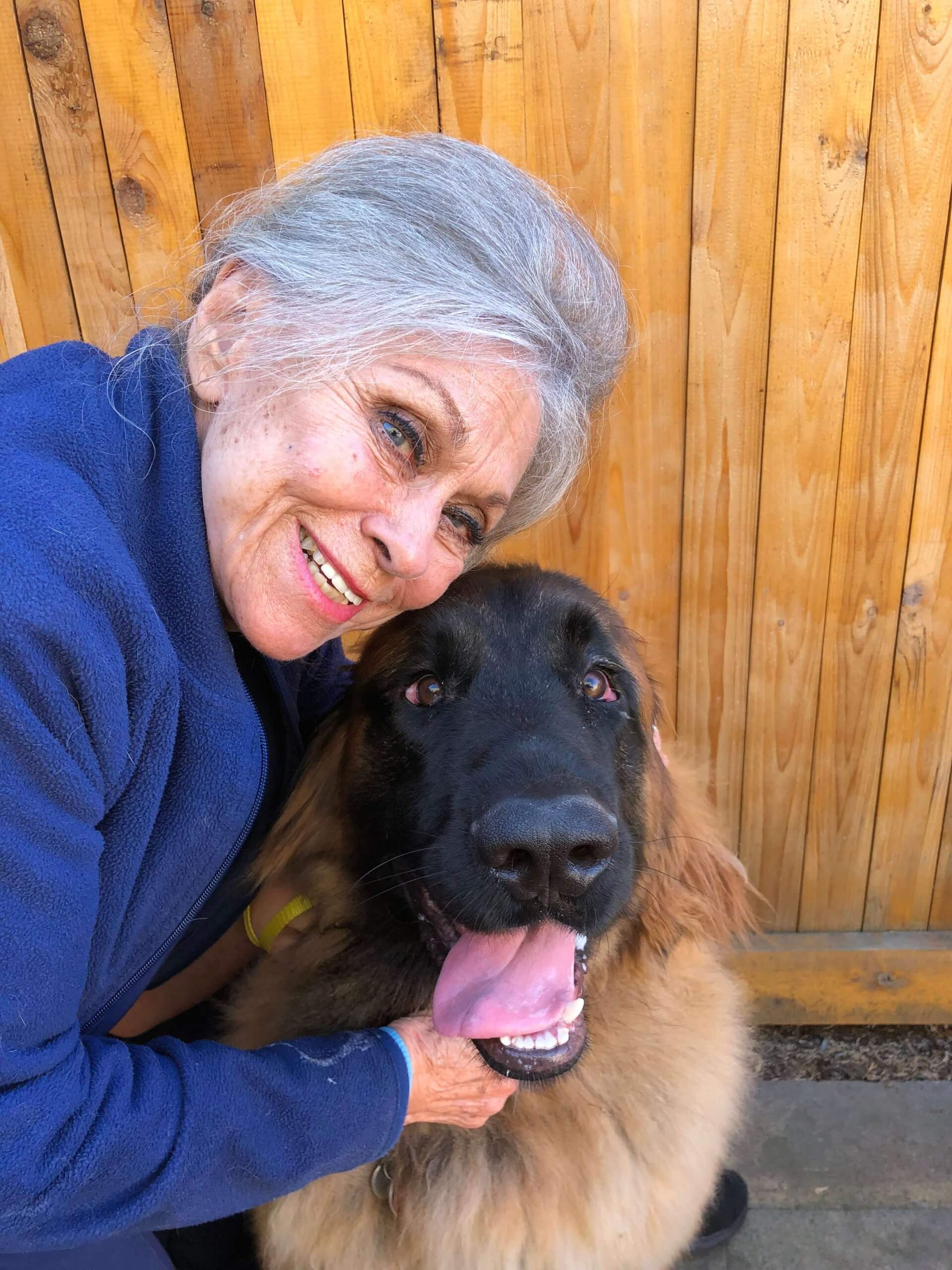 Gayle
Gayle is still working on her bio; She has lead an exciting life and has to pare it down! We can tell you that she loves her job and giving extra love to all our patients.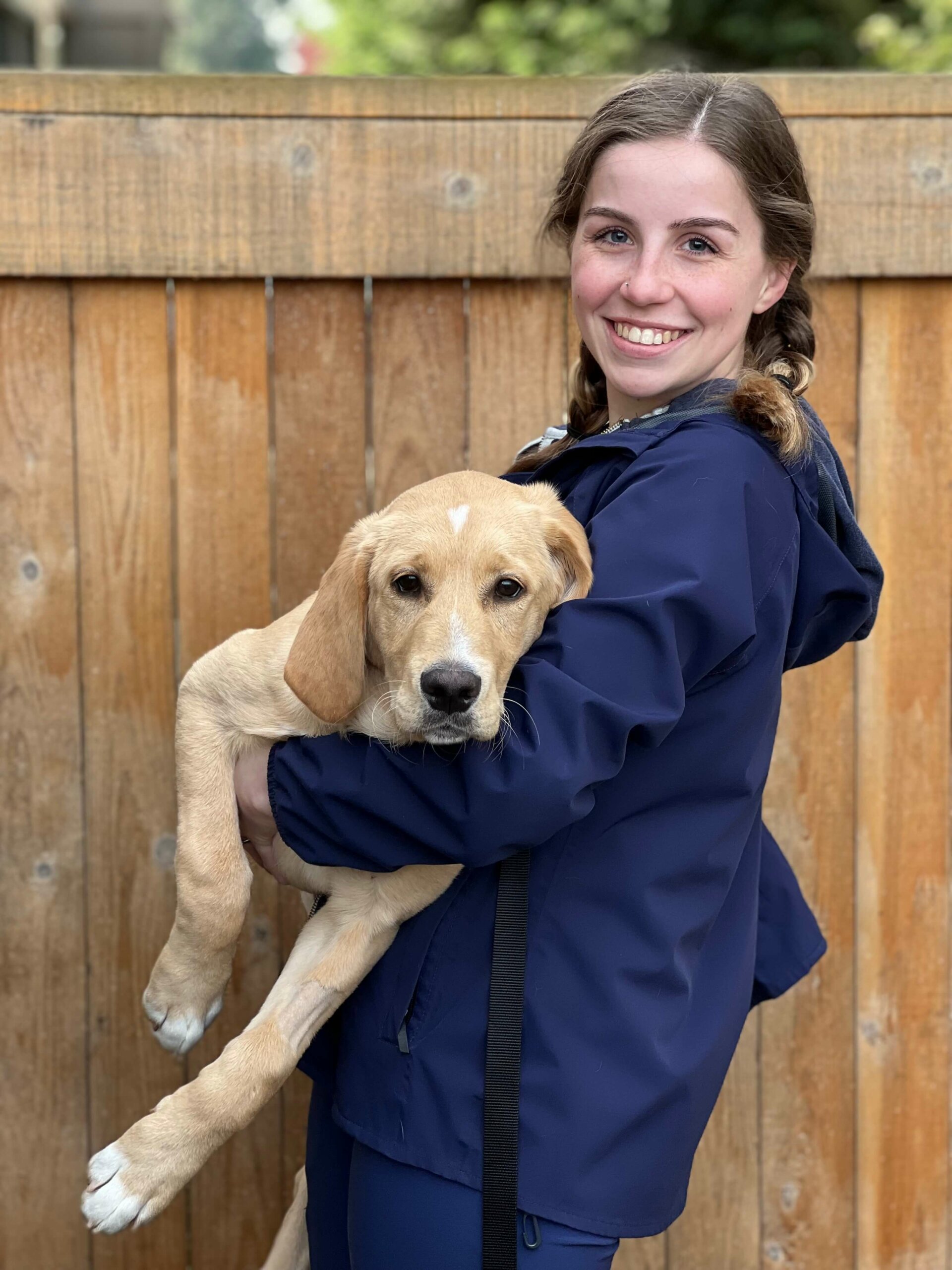 Megan
Megan was born in Oregon and raised in Washington. She started her veterinary career in September of 2017 as an adoptions counselor at the Humane Society for Southwest Washington (HSSW). Megan climbed the ranks and quickly became a veterinary assistant while at HSSW. Later she was accepted into the Veterinary Technician Program at Portland Community College. She graduated as a Veterinary Technician in June of 2020 via Zoom. Go COVID! 😉 After graduation she applied her fresh skills at a small animal clinic in Salmon Creek and worked there for about a year. Now Megan has joined the EPAH team and has loved it here since! She loves to "boop" all the noses and give all the cuddles!
Megan is a local here in Vancouver, WA, with her husband, Brett and their four fur-babies. Mowgli, a shepherd-husky puppy. Nala, a senior chiweenie. And Thumper and Trixie, sibling domestic short hair tabbies. All fur-babies are happy now that they are not being used for at-home-practice!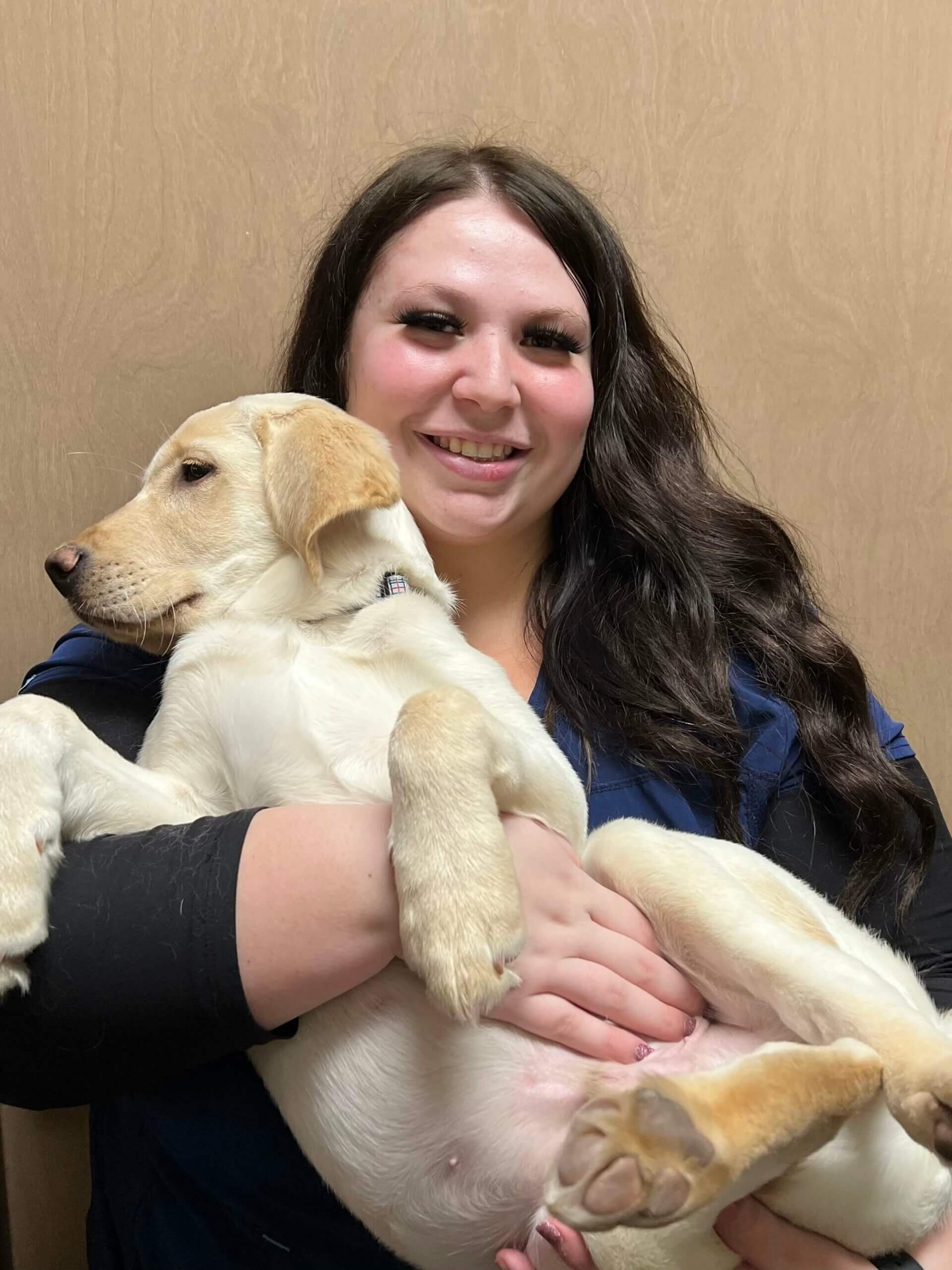 Jordan
Jordan joined East Padden Animal Hospital in July 2020. She started working as a veterinary assistant when she was 18 years old. She is an animal lover and loves working with all the different kinds of animals. She has four cats, A dog and a leopard gecko that she loves dearly and is also looking to expand her fur family soon as well. She is currently attending Veterinary school to receive her degree. She loves spending time outdoors, traveling and spending time with her friends and family. She also splits her time at East Padden being a veterinary technician and receptionist.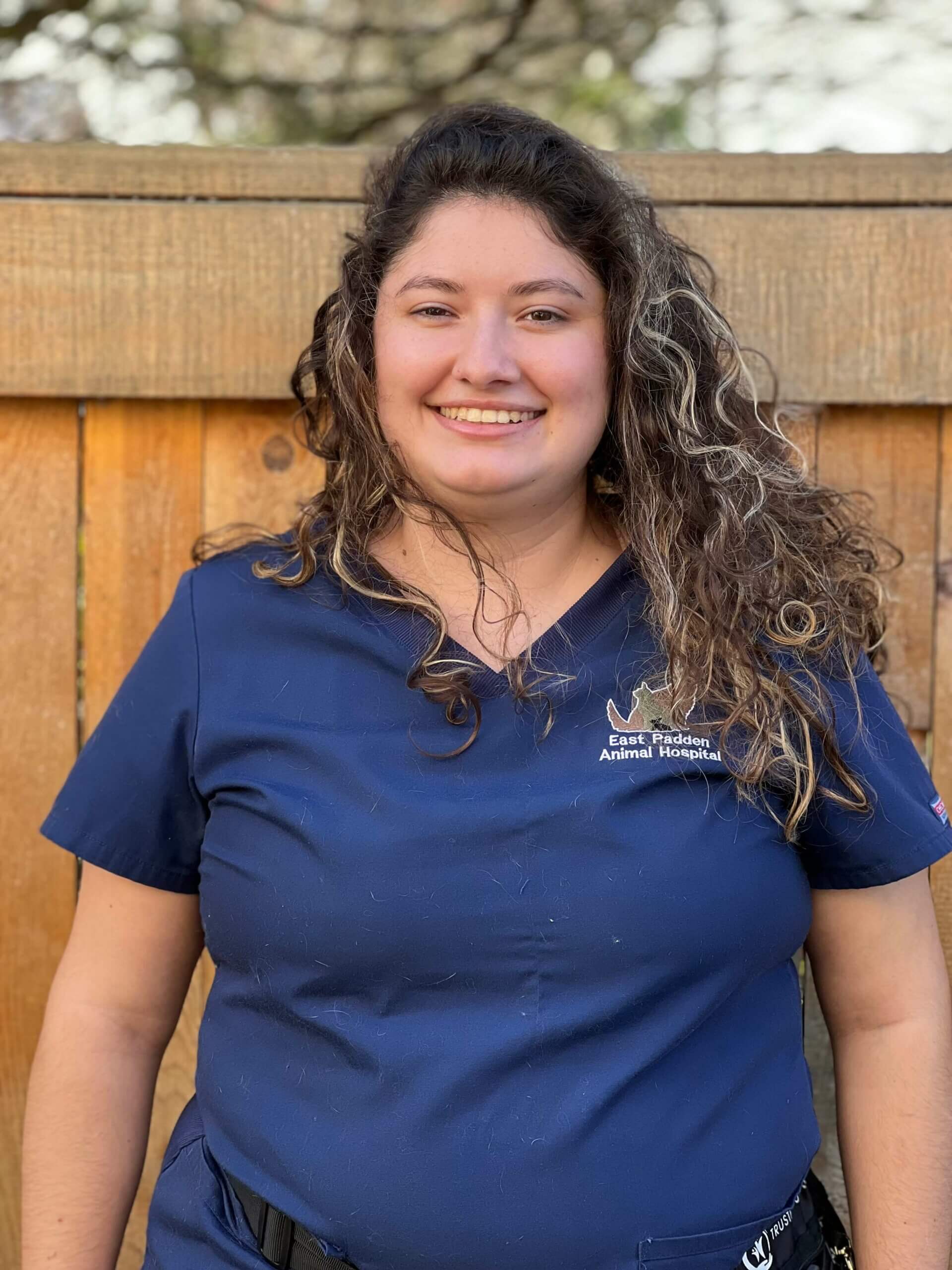 Camille
I lived in sunny Cali before transplanting myself to the great PNW. Living here brings many great adventures, including hiking the gorge and the Oregon coast. I graduated with a BS in Biology in 2020, but I was still missing some love in my life, so I devoted my skills to vet med for the past 2 years. This way I have more animals to practice my skills on instead of my own little kitty Moomoo (aka Moomoo Mochi Waffles). Once I become the best animal whisperer I can be, I plan to apply to vet school. My goal is to get a bigger place soon so I can add more fur babies to my life!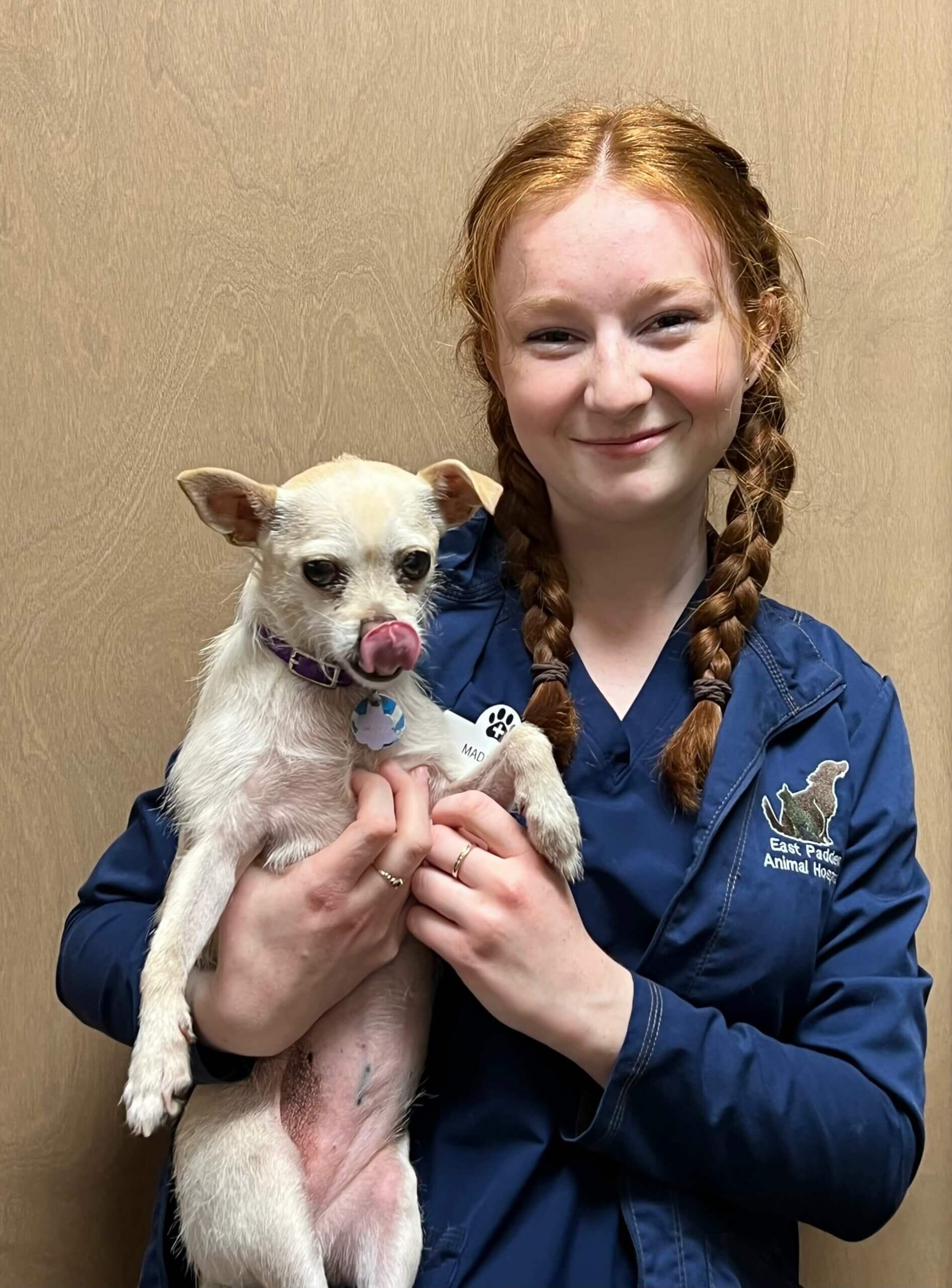 Madelyn
This is Madelyn's first job in veterinary medicine. Madelyn is currently a senior at Heritage High School and works part time here at East Padden Animal Hospital. Her love for veterinary medicine has motivated her to make a career out of it. Madelyn has been accepted into Washington State University Vancouver and plans on majoring in biology with a pre-health emphasis. Madelyn has three spunky chihuahua mixes and two bunnies that love to eat bananas. In her free time you can find her out in the garage working on her 1979 Pontiac Firebird or out competing in classic car shows!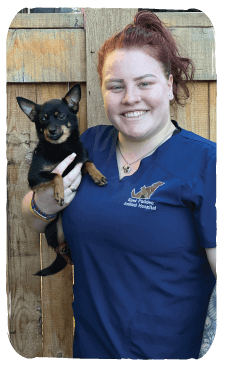 Ashley
Ashley has been in the veterinary field since 2018. She went to Carrington College and received her licensing as a Veterinary Assistant. She was in Dairy Cattle 4-H from the age of 6 to 18. Additionally, she was a Dairy Ambassador for Clark County in 2014. She has has a strong love of all pets big and small her whole life. Ashley currently has 2 cats named Mac and Cheese.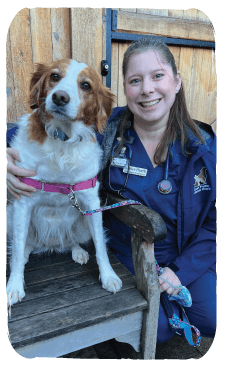 Amber
Amber has been working as an assistant/technician since 2002. Most of her vet tech training has been in emergency medicine and you can tell that it is her passion in the field. She is very adamant to treat every patient as if they were her own by giving a lot of compassion and utilizes her fear free training. When Amber is not working she loves to enjoy the outdoors by hiking, fishing, rock hounding, hunting and traveling. Amber has a daughter and Athena her Brittany and Duke her pointer, and her two cats Jasper and Boots.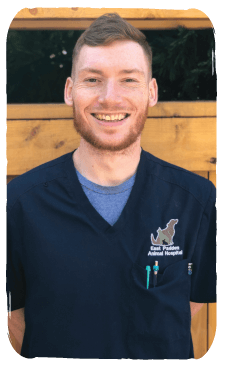 Aaron
Aaron was born and raised here in Washington and has spent most of his childhood growing up in Puyallup. In 2015 Aaron graduated from and AVMA accredited veterinary technician school in Portland and has been in the field ever since. In his free time, Aaron enjoys spending time with his two dachshunds Oscar and Jackson, enjoying food at local vegan/vegetarian restaurants, and playing basketball competitively. His favorite part about working in the veterinary field is being able to form long lasting relationships with clients and their animals while working alongside a dedicated group of individuals (EPAH family).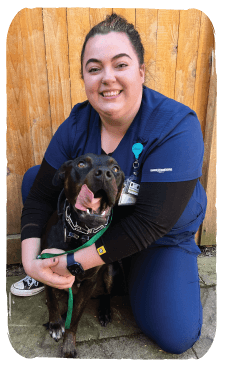 Taylor ('Cecil')
Taylor, also known around the clinic as "Cecil," started her veterinary career shortly after graduating from high school – starting in large animal medicine! She grew up around a large variety of animals including horses, donkeys, chickens, cows, lizards, snakes, frogs, rabbits to name a few. Of course, dogs and cats too. After two years in large animal medicine, she made the switch to small animal medicine where she could work a little closer to home. In her spare time, she enjoys spending quality time with her significant other and dog, Gunner – a pitbull/rottweiler mix. Taylor hopes to one day be accepted into the Portland Community College Veterinary Technician program and get certified.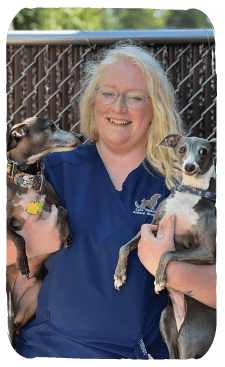 Melissa
Melissa has always had a passion for animals: whether it be saving insects in her house, running into traffic to help a stray pet, or being a vegetarian for 20+ years, it's easy to say she is an all-around animal lover. Her childhood dream was always to work in veterinary medicine (aside from being a professional Hollywood animal trainer!), and she is so grateful that she gets to help animals every day. She has loved working at East Padden Animal Hospital as a technician. Her favorite patients that come through are sighthounds and rabbits, but she will give every critter that comes her way some extra hugs and kisses. Outside of work, majority of Melissa's time is spent as an avid horsewoman. Horses were her first love and remain a large part of her life. She loves sharing her horses with the local community and is a member of a non-profit that travels to different equine expos, schools, events, and assisted living facilities. Melissa rides and shows dressage, and has recently begun learning about clicker training with horses and is having so much fun teaching her horses new and exciting things! She is also a period drama enthusiast and fangirl of all things science fiction & fantasy – she regularly attends comic-con and renaissance festivals. Melissa is married to her high school sweetheart and currently has two Italian greyhounds, Mochi and Madeleine. Aiden
Having a lifelong love for animals, Aiden joined the veterinary field at the age of 14. Now, with over 10 years of experience, Aiden is a skilled Registered Veterinary Technician leading the East Padden team as our Lead Technician.
Aiden was born and raised in Northern California before escaping to the beautiful PNW. Nowadays, Aiden lives in Vancouver with his partner Noelle (EPAH's very own pharmacist), and his 2 dogs and 3 cats.
When not working, Aiden enjoys exploring more of what Washington has to offer, eating delicious vegan meals, and playing video games!