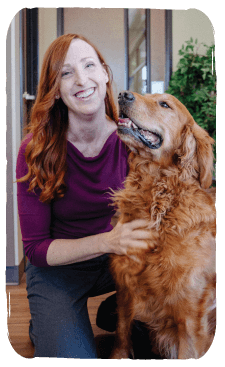 Caring for animals has always been in Dr. Thompson's blood, from the time she was a young child growing up in Texas. Her favorite companions as a kid were two cherry-tomato-eating English bulldogs as well as countless cats, guinea pigs, ducks, and a menagerie of hurt wildlife she was always trying to rescue.
She never wavered in her determination to be a veterinarian, even after being told by a male veterinarian that "women can't be vets!" She went on to earn her DVM from the College of Veterinary Medicine at Texas A&M University, where she had the opportunity to do intestinal surgery on a tiger and an endoscopy on an elephant. Dr. Thompson then worked in general practice, emergency practice, and as a relief veterinarian while she built East Padden Animal Hospital. She has owned and operated the hospital since 2008.
While she enjoys the challenges of veterinary dentistry and surgery, Dr. Thompson says her favorite part of day-to-day practice is being part of people's families. Caring for their beloved pets for a lifetime and helping strengthen the human-animal bond is incredibly rewarding for her.