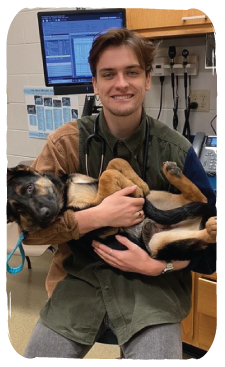 Associate Veterinarian
Dr. Max Rowley is originally from Keighley, a small town in northern England. He has always felt a deep connection to animals of all shapes and sizes, and he wanted to dedicate his life to helping as many of them as possible. He has found that being a veterinarian is the most direct way to achieve that goal. Dr. Rowley moved to the U.S. in 2011 and attended Wabash College and Purdue University where he received a degree in animal science with a biosciences concentration in 2019. He was an NCAA student athlete during his undergraduate years. In 2023, he graduated from the Purdue University College of Veterinary Medicine, where he received several awards and scholarships based on merit and leadership. He served as the president of Veterinarians as One Inclusive Community for Empowerment (V.O.I.C.E.), an organization charged with promoting diversity and inclusion within the veterinary profession.
His special interests include soft tissue surgery, emergency and urgent care, preventative and wellness medicine, and exotic animal medicine and surgery. He strives to provide indiscriminate, compassionate care to animals and their families. Dr. Rowley is Fear Free Certified and accredited through the USDA Veterinary Accreditation Program.
He has been a football (soccer) fan and player his entire life, and most days you can catch him watching a game or playing himself. He is EXTREMELY passionate about his beloved Leeds United! He also plays the drums and enjoys the outdoors. He is excited to immerse himself in the culture and community of the PNW! Dr. Rowley is engaged to Emerson, an environmental engineer, and they will be married in the Columbia River Gorge in 2024. They share their home with two black cats, Ziggy and Millicent.