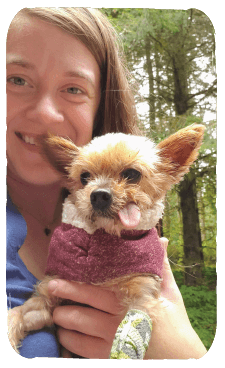 Dr. Emily Amsler grew up in small town Iowa before moving to the Pacific Northwest as a teenager, and absolutely loves the rain and the trees here! She completed her undergraduate and veterinary degrees at Oregon State University in Corvallis, OR. Finding that conventional medicine wasn't effective enough for some of her patients, Dr. Amsler took the International Veterinary Acupuncture Society course last year to start exploring Eastern medicine to complement and improve her medical practice.
Dr. Amsler's favorite part about veterinary medicine is seeing her patients thrive into and enjoy their old age. She enjoys communicating and working with pet owners to determine the best course of action for their furry family members. The cases that most interest her are dermatology cases, dentistry, acupuncture, and pain control.
She lives in a tiny house on 40 acres in Woodland, WA with three pets – Joey the tiny panther cat who looks down contemptuously on Hayden the ridiculous dog with no teeth, and Pimm the tortoise who cares about nothing other than his hibiscus flowers and dandelion treats, and destroying his habitat as much as he can. Days off see her cooking, knitting, hiking the many trails around this beautiful area, rock climbing, and trying to tackle the growing list of sewing projects that her husband and pets would look super cool in, if only she could finish one of them.