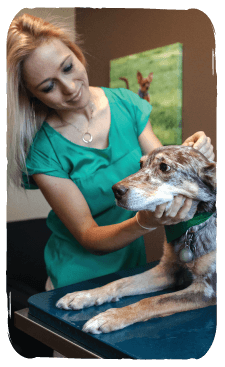 Though born in Torrance, California, Dr. Chanel Baron grew up all over the western United States, including central Oregon and Phoenix, Arizona. Loving the reliability of her pets and the bond she shared with them as a child, Dr. Baron knew she wanted to be a veterinarian from a very young age. She earned her veterinary degree from the University of California, Davis and proceeded to work in the veterinary field in Boston, a couple locations in California and then finally in the Portland/Vancouver region. Though Dr. Baron loves emergency medicine, her most favorite aspect of veterinary medicine is working with pets and their owners to strengthen the human-animal bond.
Having grown up with two show shelties and various shelter dogs as pets, Dr. Baron thought she was a dog person, but since becoming a veterinarian and adopting a cat of her own, her love of cats has grown every day. In addition to the cat, she also owns two dogs, all rescues, who live peacefully together in a one-bedroom condo in downtown Portland.
When she's not busy caring for your pets at East Padden, Dr. Baron enjoys many past times, including swimming, reading, yoga, camping, hiking, live music, philosophy, dancing, kayaking, and shopping (her guilty pleasure!). Her favorite thing to do though is travel, and she would eventually like to visit every national park!