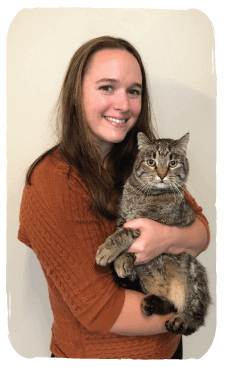 Amanda Slocum has had a passion for caring for animals from a young age. Once the ballerina phase wore off, she was often found caring for all sorts of critters around her family's property in Ridgefield, Washington. One of her favorites was an Ameraucana chicken named Clarice. She currently owns two male cats named Scotch, a brown tabby, and Pepper, a black and white Persian. Her dream dog is one who cuddles her cats, loves swimming and would fit on her kayak.
Dr. Slocum has special interests in dentistry and soft tissue surgery, because of the healing and improved quality of life that comes from removing a source of disease and pain. She is also passionate about practicing acupuncture to help with all sorts of ailments, but primarily to assist older pets with getting around more comfortably.
Dr. Slocum received her undergraduate and graduate degrees through Washington State University (Go Cougs!) and has lived in or around Vancouver most of her life. She can't think of a better place to live and flourish with her love of nature, outdoor activities, good cuisine, and the four seasons. Her hobbies include road cycling and reading a good novel, but given the chance she also loves playing disc golf, snowboarding, racquetball, kayaking, paddleboarding, and international travel.