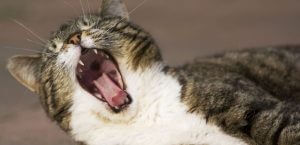 An oronasal fistula (ONF) is a passage-shaped opening between the oral cavity and the nasal cavity. ONF are the result of severe periodontal disease, botched dental extractions, trauma, foreign bodies and neoplasia, all of which damage the lining of the mouth or gums to create an unwanted communication to the nasal cavity.
An ONF will not heal without surgical intervention. Open oronasal fistulas allow food, water and bacteria to travel between the two areas, leading to unwanted sneezing and irritation, as well as increasing the likelihood of infection.
The surgical procedure uses a small section of the gums (gingival) to bridge the gap, creating a flap to cover the communication. This closes the oronasal fistula, stopping the transmission of material and allowing the wound to heal.
How can I help prevent oronasal fistulas?
Owners can prevent ONF by maintaining good oral health practices for your pet. Brushing your pet's teeth daily will combat periodontal disease, and by extension, oronasal fistulas. Regular visits to the Dental Center at East Padden will increase the likelihood of early detection and improve the efficacy of treatment.
To learn more about pet oral health please contact your East Padden dental specialist today!